By default, a chart is set to be private, which means only you have access to it. To share your chart with other people, click the "Share" button.


Charts are completely private by default
By default you're the only one who have access to your own work.
If you have shared a chart, you can set your chart back to private at any time.
View the list of your shared charts here
Access per user
You can give access to a chart to individual users. After clicking the "Share" button, you'll see the list of users who have access to the chart. Enter the e-mail of the user who you'd like to give access to. You can set whether the user is allowed to edit the chart, or only view the chart.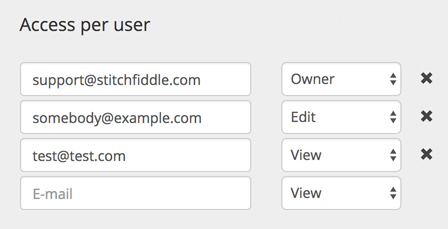 Ownership
A chart always has one owner. It's impossible to remove your own access by accident. Other people with access to edit a chart can also change the access rights of the chart, even without being the owner. Users with only access to view the chart can't change it, and can't the list of users who you've shared the chart with.
Progress tracker
Each person who has access to a chart have their own personal settings for the progress tracker. These settings and the progress position are not shared and are always saved separately for each user.



View charts shared with me
The charts shared with you can be opened from the Charts shared with me folder.
Cannot find a chart in this folder, but it should be shared with you? Verify whether you've added all your e-mail addresses to your account, and whether you've activated all listed e-mail addresses. You can do that here.
Copyright
Stitch Fiddle respects the intellectual property rights of others and we expect from you to do the same. Be respectful of artwork that is not yours. Read more about the copyright policy.